Marina Information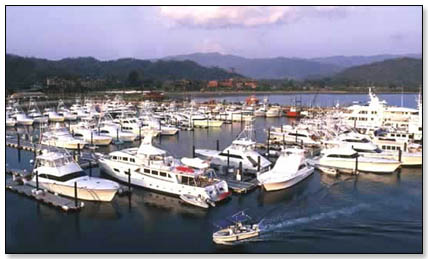 INQUIRE NOW
Los suenos resort Marina
Marina Information
Los Sueños Resort and Marina is located at Herradura Bay on the Central Pacific Coast of Costa Rica, only 10 minutes from the nearby beach town of Jac ó and a two-hour scenic drive from Juan Santamaría International Airport in the capital city of San José.
ll major U.S. carriers offer daily direct flights to Costa Rica from major hubs such as Miami, Los Angeles, Houston, Dallas, Newark and Chicago. Airport transfer options include rental cars, private shuttle buses and airplane or helicopter charters.

For Shuttle transportation to and from the airport log on to www.transancho.com.
Arriving by boat? Los Sueños Resort and Marina can be reached at the following coordinates: Lat: 9°-38-95 N, Lon: 84°-39-80 W, Radio Monitor: Channel 16.

Los Sueños Marina facilities include:
200 wet slips
100 dry storage spaces
96 mini self-storage units
Sportfishing charter office
Marine supply store
Marina Village shopping center
El Galeon fine dining restaurant
The Hook Up bar & grill
Lanterna Ristorante Italiano
The Terrace Lounge
Bambu Sushi and Asian Cuisine
Dolce Vita Coffee and Sweets
Real estate sales office
Public parking and washroom facilities
Fuel Service:
The Los Sueños fuel station is equipped with state-of-the-art technology in fuel dispersion, featuring a 65-gallon per minute pumping system for efficiency and speed. All fuel passes through a centrifuge cleaning process to ensure the highest percentage of purity possible, making it the cleanest fuel available in Costa Rica.
The fuel station also handles oil changes, extractions and bulk servicing of all lubricants, as well as complimentary pump-out services for sanitary tanks.

LOS SUEÑOS MARINA - SEASONAL SLIP FEES
EFFECTIVE: APRIL 01, 2008
RATES AND REQUIREMENTS SUBJECT TO CHANGE WITHOUT NOTICE

Length of Vessel Rate Per Lineal Foot (PLF) Property Owners Rate Per Lineal Foot (PLF) Non Property Owners Security Deposit Amenities Live-Aboard
30 - 40' $29.50 PLF per month payable in advance $33.25 PLF per month payable in advance $2,000 Water, Electricity, Trash Removal and Security Included* $5.00 PLF per month with permission from Harbor Master
41 - 50' $32.75 PLF per month payable in advance $36.50 PLF per month payable in advance $2,500 Water, Electricity, Trash Removal and Security Included* $5.00 PLF per month with permission from Harbor Master
51 - 60' $34.00 PLF per month payable in advance $41.00 PLF per month payable in advance $2,500 Water, Electricity, Trash Removal and Security Included* $5.00 PLF per month with permission from Harbor Master
61 - 70' $37.50 PLF per month payable in advance $44.25 PLF per month payable in advance $3,000 Water, Electricity, Trash Removal and Security Included* $5.00 PLF per month with permission from Harbor Master
71 - 80' $41.50 PLF per month payable in advance $48.00 PLF per month payable in advance $3,500 Water, Electricity, Trash Removal and Security Included* $5.00 PLF per month with permission from Harbor Master
81 - 100' $46.50 PLF per month payable in advance $52.00 PLF per month payable in advance $3,500 Water, Electricity, Trash Removal and Security Included* $5.00 PLF per month with permission from Harbor Master
101 - 110' $52.00 PLF per month payable in advance $55.75 PLF per month payable in advance $3,500 Water, Electricity, Trash Removal and Security Included* $5.00 PLF per month with permission from Harbor Master
111 - 125' $55.75 PLF per month payable in advance $64.00 PLF per month payable in advance $4,500 Water, Electricity, Trash Removal and Security Included* $5.00 PLF per month with permission from Harbor Master
126' - Over $61.25 PLF per month payable in advance $72.00 PLF per month payable in advance $4,500 Water, Electricity, Trash Removal and Security Included* $5.00 PLF per month with permission from Harbor Master
Daily $3.50 PLF $3.50 PLF None Water, Electricity, Trash Removal and Security Included* $5.00 PLF per month with permission from Harbor Master

LOS SUEÑOS MARINA - ANNUAL SLIP FEES

Length of Vessel Rate Per Lineal Foot (PLF) Property Owners Rate Per Lineal Foot (PLF) Non Property Owners Security Deposit Amenities Live-Aboard
30 - 40' $24.25 PLF per month payable in advance $27.50 PLF per month payable in advance $2,000 Water, Electricity, Trash Removal and Security Included* $5.00 PLF per month with permission from Harbor Master
41 - 50' $26.00 PLF per month payable in advance $30.00 PLF per month payable in advance $2,500 Water, Electricity, Trash Removal and Security Included* $5.00 PLF per month with permission from Harbor Master
51 - 60' $27.50 PLF per month payable in advance $31.75 PLF per month payable in advance $2,500 Water, Electricity, Trash Removal and Security Included* $5.00 PLF per month with permission from Harbor Master
61 - 70' $30.75 PLF per month payable in advance $35.00 PLF per month payable in advance $3,000 Water, Electricity, Trash Removal and Security Included* $5.00 PLF per month with permission from Harbor Master
71 - 80' $33.25 PLF per month payable in advance $38.75 PLF per month payable in advance $3,500 Water, Electricity, Trash Removal and Security Included* $5.00 PLF per month with permission from Harbor Master
81 - 100' $38.75 PLF per month payable in advance $44.25 PLF per month payable in advance $3,500 Water, Electricity, Trash Removal and Security Included* $5.00 PLF per month with permission from Harbor Master
101 - 110' $44.25 PLF per month payable in advance $49.25 PLF per month payable in advance $3,500 Water, Electricity, Trash Removal and Security Included* $5.00 PLF per month with permission from Harbor Master
111 - 125' $48.50 PLF per month payable in advance $53.50 PLF per month payable in advance $4,500 Water, Electricity, Trash Removal and Security Included* $5.00 PLF per month with permission from Harbor Master
126' - Over $53.25 PLF per month payable in advance $58.50 PLF per month payable in advance $4,500 Water, Electricity, Trash Removal and Security Included* $5.00 PLF per month with permission from Harbor Master