Marina Information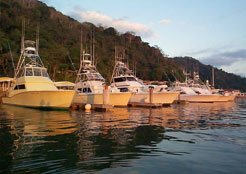 INQUIRE NOW
Banana Bay Marina
Marina Information
Located at the edge of a beautiful tropical rainforest in Golfito, Costa Rica. The town and marina sit in a natural, deep draft gulf offering excellent protection from the swells of the Pacific Ocean. Just north of Panama, it is an official point of entry into and exit from Costa Rica. Cruising yachts find a safe haven in this beautiful location, and often extend their visit. In addition, Banana Bay Marina is a full service sportfishing center and provides services to sportfishermen as well as yachts and sailboats in transit.
Wooden docks accomodate up to 120'
20 feet of water at low tide
Docks have 110/220v power to 50 amps
Cable TV, Telephone and T1 Internet
Secure deep draft moorings
Anchoring area
Floating dinghy dock
Services for docks, moorings and anchorages

fresh, pure water
laundry service (same day)
bathrooms and showers
fax, telephone and copier
hot tubs with complimentary towels

Dockwise Yacht Transport - inquire
Excellent bar, restaurant and grill
About Golfito, Costa Rica
The Golfito area has a population of approximately 3,000 people, and was at one point in history a true "Banana Republic." Up until 1985, Golfito served as the area headquarters for the United Fruit Company. The town derives its architecture and culture from that 50 year association and it retains much of that rich flavor and boasts inhabitants from many countries and cultures.
Access to most goods and services such as provisions, repair parts, and travel services is readily available. Golfito has a large Duty Free with the lowest prices in the country. Additionally it has a hospital, seven day a week access to branch offices of the national bank, and several fine restaurants.
Access by almost all modes of transportation is a breeze! Golfito is served by two major commuter airlines with several regularly scheduled flights daily to San Jose, Costa Rica's capital city. Flying time is about 45 minutes. In addition, the staff in our travel agency can book direct charter flights from San Jose and many other points in Costa Rica.
Southern Costa Rica offers excellent ecotourist activities including a major research facility of the Organization for Tropical Studies and easy access to some of the world's most unique and biologically diverse protected natural areas, such as Corcovado National Park and the Golfito Wildlife Reserve. The zone also offers excellent beaches and tropical rainforests with several lodges nearby offering a break from the boat. Other popular activities include world class surfing, horseback riding, spelunking, sportfishing, and kayaking.